Rebuilding After Water Damage from Frozen Water Pipes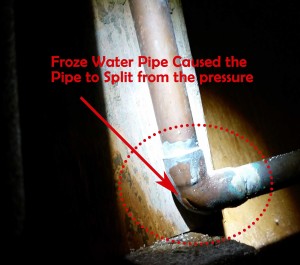 Often times when a structure is damaged by water, fire or smoke and has to be gutted down to the framing the homeowner has the opportunity to recreate the space that was damaged.
In our project the water from the frozen and leaking water pipes damaged all wall, ceiling and floor coverings. The electrical wiring was even damaged and needed to be replaced. This left us with a bare rough framed structure with the exterior coverings still in good shape and not water damaged.
Now we have the opportunity to rebuild the space and add extra's, such as new windows and doors. Hardwood flooring repair wasn't possible so new wood floors were installed. We insulated the walls and ceiling properly by adding the correct amounts of insulation and making sure the attic space is vented properly in both the exterior soffit and a ridge vent or gable vent.
So take some time and consider your options. It is important you find a contractor that is willing to work with you. I'll be blunt, contractors can be a rough group to deal with, they can be short with you, they can stubborn and they can act like a prima donna. So take special pains in the beginning of your project when selecting a contractor who specializes in water removal service.
This is the second post in the Tower Lakes Frozen Pipe case study. To recap first the owner selected the best water mitigation company, Forever Restorations, we determined the source of the frozen water pipes and got them fixed. Next we started the clean up and dryout.
The ceiling collapsed, we found asbestos and had to do a special cleanup.
We did a complete dryout to rid the structure of water moisture, both building materials and entire house.
And now we are ready to put the room back together again. At this point we are doing some extra work in the form of roof and ceiling framing, ultimately the room will look totally different. It will appear as though we added space when all we did was raise the ceiling.